About My Kimmidoll
The inspiration for the 'My Kimmidoll' website was created initially from a kimmidoll Mother's Day gift received from our son, who now lives permanently in Australia.  We miss him greatly and he spent a great deal of time looking for a special gift, with meaning, for his dear Mum.  He not only found the perfect gift in kimmidoll and noted that it was also a collectable.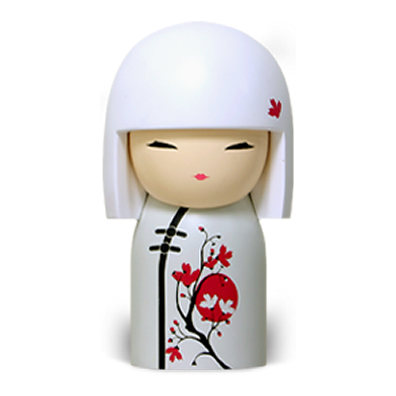 The Akari Kimmidoll of Laughter
Being a young man, he found this option particularly attractive, as it avoided the agony of extended shopping trips again for the next special occasion - hence we now have a thriving collection of these lovely kimmidolls, as gifts from our beloved son.  Friends, family and visitors to our home have all been attracted to the kimmidolls and they are often the subject of much discussion. 
In addition, we are both active martial artists, each having practised the art of karate for some 25 year duration.  We run a martial arts club and also train regularly in European, America and Eastern countries.  We have always been drawn towards the East – the history, the culture, the way of life, the meanings behind the multitude of rituals – we find the Eastern thinking both intriguing and refreshing.  Kimmidoll, to us, symbolises the simplicity of Eastern life – far too many gifts in the West are gadget and gimmick driven and the joy and interest in them can wane very quickly.  The attraction for us of the kimmidoll is in its uniqueness, its meaning, its colour and its simplistic beauty.  We hope that all our viewers to the web site experience the same attraction to the kimmidoll as we do.  We thank you for your interest and support on the launch of this exciting venture into the land of kimmidoll.